TUAN NGUYEN | Founder TKB International

Tuan's Story....
Tuan Nguyen is a true survivor. His incredible life journey shaped and guided him, giving him the drive for success and the passion for giving back. Tuan is a Sports Medicine rehab specialist with over 25 years experience treating professional athletes throughout the San Francisco Bay Area and around the world. In 2013, Tuan founded TKB Baseball.
Tuan grew up in South Vietnam, he was the oldest son of a large family. When he was just six years old, his parents sent him off to a private Catholic boarding school. He liked his school and learning from the nuns. He has fond stories of lining up for the weekly bathing sessions where the nuns would shampoo the boys' hair and then dress the students in fresh pajamas. Once Tuan was all clean and clothed, the nuns would feed the hungry little boys fresh baguettes. Tuan would wait to get the end piece, his favorite. He liked his school but missed his parents and siblings. Family visits were just one week a year, he missed the loving hugs of his mother and the stern guidance of his Military father. School taught Tuan about discipline and Catholicism, the importance of family and independence.
In 1979, when Tuan was only 13 years old, his parents sent him to the coast of Vietnam. It was a long journey, half a day travels. When Tuan arrived at the coast late in the evening, he waited in a long line of people he did not know until his name was called. He was then instructed to board boat #0531, a double decker wooden boat. He will never forget the number of the boat, numbers that added up to 9, a lucky number in Vietnam. The scared young boy climbed onto the boat and sat, side by side with 278 other passengers, a mix of some Vietnamese and mostly Chinese men, women, children. Tuan knew no one. Off they sailed to escape Vietnam and for Tuan, escaping his inevitable entry into the Red Army. For seven days and seven nights, the passengers sat, crammed like sardines, with no food or water. It was horrible. The boat was robbed by pirates three times. Tuan sat, scared and helpless as he witnessed unspeakable acts from the pirates, men were beaten, women raped. Unimaginable sites for anyone to see. With horror all around him, Tuan somehow was protected and without a scratch he sat unscathed but, inside he began to build a wall. He wondered, 'how could his parents send him off all alone like this?' 13 years old, all alone at sea, starving, dying of thirst on wooden boat # 0531.
The seven day boat journey ended in Indonesia where Tuan and the surviving 259 other passengers unloaded and entered their new home. Letung Island, an Indonesian Village is where Tuan would spend the next 10 months. For Tuan, living in the village with a local family at first and then later in the refugee camp was very difficult. "It was hell" he said. He told himself then and there that he must survive. To him, life did not mean anything, everyone was out for them self. This young boy had no one to look after him. Tuan had seen life and death on the boat, he knew extreme thirst, he never had enough to eat, and he did not have the loving arms of a mother to comfort him. During that time, all Tuan could do was to just survive wondering what the next day, the next month would be like. He began to see clearly that he had to face his fears, he had no choice.
Shortly after his arrival in Indonesia, he began to adapt. Tuan learned the native language and he volunteered for the hard jobs like dragging the dead bodies of the people who did not survive the boat trip back to shore. The locals started to treat him like a native as he began to adjust to the Indonesian lifestyle. He learned to climb trees to fetch coconuts and fish in the early morning. This was a critical moment for young Tuan, he learned very early on a valuable life lesson, survival. In order to survive in the camp, he began to accept his environment, he learned the local culture and was taught the Muslin religion. It changed him, it turned him into a fearless man, he knew that every minute something different, something unbelievable could happen and he needed to be ready for it. He also learned about culture, perseverance, adaptability and most importantly, he learned that he had a knack for connecting with people who were different from him.
In a fateful turn of events and 10 months after he first stepped onto the Indonesian village, Tuan was told that he would be sponsored by a family in Nebraska. He would be coming to the United States. With tears in his eyes, he tells the story of the white Lady in the white blouse who gave him the news. "She was not a thin lady, she had blond hair and a strong voice. I will never forget her. She wore a white blouse and through a translator, she told me that because my father had worked with the US Military that I had been selected to go to America. I was going to the U.S!! Everyone wanted to go the United States! I was rescued. Lucky #9" Tuan said. Soon Tuan would board a ship for Singapore and then travel by plane to Hong Kong then Guam and Hawaii with an overnight stop in Los Angeles and finally landing in Denver, Colorado where he would meet his new family. The hungry young boy remembers his journey to the U.S. with landmark stops to eat at McDonalds and KFC, he vividly remembers the taste of the cheeseburgers and fried chicken. This was yet another life shaping lesson for Tuan who loves food and appreciates each and every meal. "When you have had nothing to eat or your only option is rotten rice or spam shipped in to camp from the Catholic Churches, you appreciate each and every bite that goes into your body. To this day, I am so grateful for a good meal!" Tuan says with a big smile.

Tuan was sponsored and cared for in Nebraska by his new family, the Temples. Robert, the father was a widow raising 4 children. Living in Nebraska was new and wonderful and also different and challenging. Tuan was a minority in a very small town in the Midwest, he was unlike most people. At first, he did not speak English but quickly learned, once again adapting to his environment. School and education became very important to Tuan. He knew that his education was something that could never be taken away from him. Tuan graduated High School in the small town of Ogallala, Nebraska and then went on to college in Lincoln. While studying he met his wife Julie who also attended the University of Nebraska. After graduation in 1991, Tuan was offered an internship with the San Francisco 49ers. He moved to California for work and four months later, Julie joined him. During his time in Nebraska, Tuan learned about family, a loving father, Christianity, the importance of his education and he fell in love.
In California, Tuan worked very hard, he volunteered as much as he could and lent a helping hand to everyone. He was becoming well known for treating high school student athletes with injuries at no cost because he knew they needed to be treated but couldn't afford it. Long lines of athletes waiting to see him was not uncommon. Tuan worked hard for each and everyone, always willing to give back. He was released from the 49er's in order to go back to school at San Jose State to complete his Master's Degree in Sports Medicine.
While building his career, Tuan also spent most of his savings and a full year working diligently to get his two brothers released from the Refugee camp in Malaysia where they had been for the past five years. This was an extremely emotional time for Tuan, he was beginning his new life, working day and night to get his career started, he was married to Julie now, he was in heaven in the United States, appreciating each and every moment of life but, he could not allow his brothers to be in the camp any longer. Phone calls to the U.S. Embassy, trips to Malaysia and never taking no for an answer was his motto. During one of his trips back to the Refugee camp in Malaysia, Tuan had his taxi driver stop off at 7-11 where he bought up Raman noodles, 7-ups and every snack he could find, he filled the taxi with food and drinks to bring to the camp as he knew that the 10,000 people inside the camp had very little to eat. His brothers were literally down to skin and bones, an extremely emotional site for Tuan to see. An excruciating year later, Tuan's two brothers were released and living with him and Julie in California. Years later, he looks at his successful brothers and his nieces and nephews and he smiles. "Life is hard sometimes, but it is good", Tuan says.
If you ask some of Tuan's patients to describe him, they may say that he is a complex man. A perfect mix of a serious disciplined military brain who is independent and at first maybe a little cold. This is the survivor side of Tuan but, once you know him, Tuan is a vivacious, funny, warm and friendly person who deeply cares about people, especially those very close to him. He is a dedicated father and husband, raising two boys with his wife Julie. His career as a Sports Medicine Rehab Specialist has taken him around the world, treating athletes like Yao Ming and Barry Bonds. The Chinese National Team will fly out to California to be treated by Tuan. He has been to England and the Netherlands, he's treated World Class Motor Cross athletes and was appointed Director of Medicine for the East West Shrine Games for 13 years. Tuan was the Director of Sports Medicine for Laguna Seca, World Superbike and MotoGP. This is just a sprinkling of Tuan's many accomplishments. Tuan has friends around the globe and to everyone he meets, he is something special. As his brothers told him, "Dad gave us the gift of Tuan." That gift extends beyond family as Tuan has spent his life and career helping others. There is a reason that Tuan boarded boat #0531, his life had a purpose beyond anything he could have imagined.
What's the next phase for Tuan? "I believe that God walked me through life and walked me through things I had to face, he opened the right gates at the right time for me. I believe that someone is watching over me." This faith and loyalty has given Tuan a beautiful life, he will be the first to tell you that living in California, with a successful business and wonderful family, that his life is heaven. Is his life much different than yours or mine? Maybe not, Tuan's experiences have gifted him the appreciation for the little things, food, love, friendship, connections and also given him the strength to be fearless and a survivor. He has such an inspirational outlook on life.
Tuan wants to build more relationships and connections around the globe and his vision is for student athletes to experience other parts of the world. Four years ago, Tuan founded TKB Baseball, an elite baseball club for players ages 12 – 18. His teams play in local high level tournaments. In the Summer of 2016, Tuan personally selected 18 of the best players in the San Francisco Bay Area and took them on a life changing trip to Beijing, China to play baseball against the top Chinese Baseball teams. The boys had the opportunity to face the incredible pitching talent of the Chinese players while also having the life changing cultural experience of travelling to a foreign land. This nine-day trip was such a success for Tuan, the players and parents. His vision is to replicate this experience again in China with the baseball team and extend this into other high level sports like soccer, swimming, tennis. With friends and relationships around the world, Tuan plans to take both boys and girls teams, high level athletes to countries around the globe and play against fellow international athletes. It's a cultural experience, it's a chance for American athletes to be seen in other countries by top scouts and for most everyone, it is a trip of a lifetime. And, for Tuan, it's an opportunity to give back to the game and to introduce young athletes to culture and international play. This is Tuan's vision, to take TKB International all over the world.
A survivor with a heart of gold, a lover of life, and a giver Tuan Nguyen is lucky #9.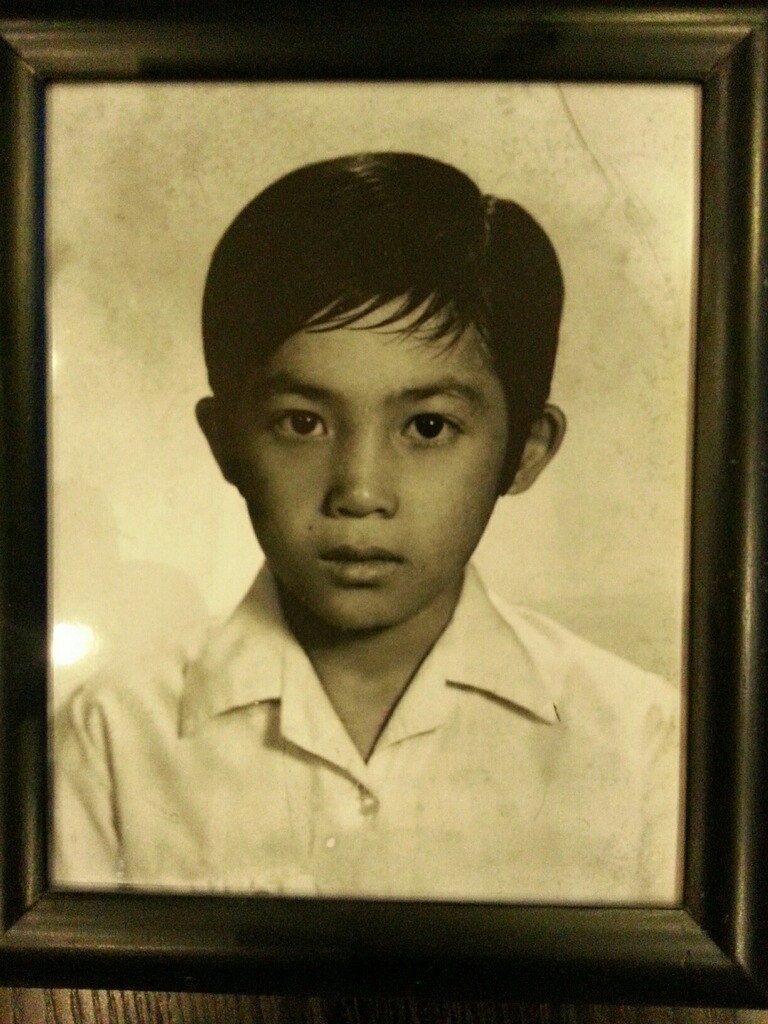 Tuan Nguyen, 13 years old
Refugee #64588
Boat #0351
Letung Village, Indonesia
1979